Welcome to Falkrigia Shepherds, the Crafty Woodchuck and Appaloosa Acres
BEAUTY OF MIND, BODY, AND SPIRIT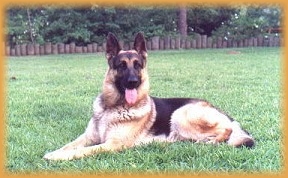 OVER THE RAINBOW BRIDGE
The Rainbow Bridge - Author unknown:
Just this side of Heaven is a place called Rainbow Bridge. When an animal dies that has been especially close to someone here, that pet goes to Rainbow Bridge. There are meadows and hills for all of our special friends so they can run and play together. There is plenty of food, water and sunshine and our friends are warm and comfortable.
All the animals who had been ill and old are restored to health and vigor; those who were hurt or maimed are made whole and strong again, just as we remember them in our dreams of days and times gone by. The animals are happy and content, except for one small thing: They each miss someone very special, someone who was left behind.
They all run and play together, but the day comes when one suddenly stops and looks into the distance. His bright eyes are intent; his eager body begins to quiver. Suddenly, he breaks from the group, flying over the green grass, faster and faster. You have been spotted, and when you and your special friend finally meet, you cling together in joyous reunion, never to be parted again. The happy kisses rain upon your face; your hands again caress the beloved head, and you look once more into those trusting eyes, so long gone from your life, but never absent from your heart.
Then you cross the Rainbow Bridge together.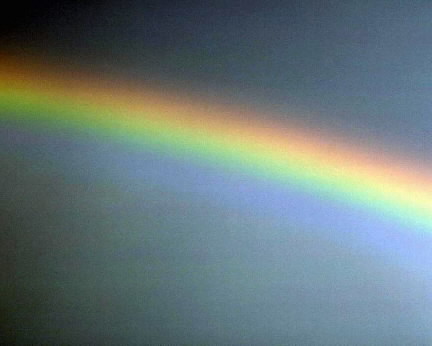 Click Here to see dogs that crossed this bridge early in our history
and how we got involved in this Glorious Breed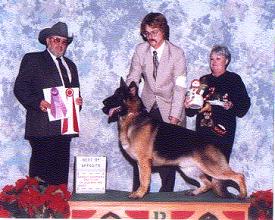 CH Kaleef ManO'War Falkrigia HIC,CD, ROM
"Red"
OFA GS-63749G27M-PI
GS - EL13658M27-PI

(Ch Kismet's Sight For Sore Eyes TC v Kaleef's Valle)
See Our Pedigree

Shown winning his first major at 12 months of age, Red was truly 'the ultimate package', with a very strong head, black and red pigment, substance, large bone, incredible ground-covering movement and true Shepherd character. Red had a pedigree of outstanding producing potential and he proved it in his first litter which produced Champion Jolie and Champion Beau - both bred by Pauline Moon. His younger offspring are beginning to do well in their own right and he was bred to two extremely nice bitches shortly before his untimely death whose offspring will hopefully continue Red's legacy of gorgeous young dogs and bitches.

His brother BoldRuler aka Trapper, producing well in his own right, is still standing at stud at Falkrigia.

See pix of his litters.

Man O War completed his ROM with 6 Champions and 4
major-winning qualifiers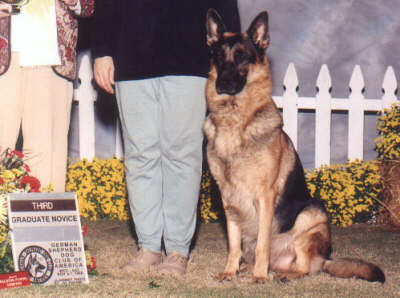 Falkrigia's Quothe The Raven CD BH TC HIC
(Rusty v Estahaus x Falkrigia's Indigo Lace OFA good)
Shown going 3rd in grad novice at the 98 national, he is the sire of Ch Vachon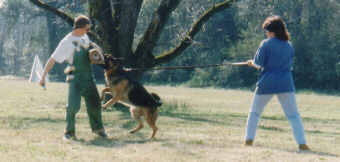 Raven was a german/american cross who produces beautiful pups who are free of many of the problems seen so often today. He improved pigment, bone, trainability, earsets, secondary sex characteristics and eye color consistently.
With the german combination of Sel Ch V Dingo Sch 3 and Ch Ondra v Sendborn and his old, solid American show lines, he is an important part of Falkrigia German Shepherds
Raven passed away December 27th 2007 at 12 and 1/2 years of age but his
solid genetic influence will hopefully live on through future generations
of Falkrigia shepherds

See pix of his litters.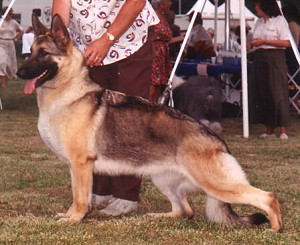 Ch Windwalker's Utah v Falkrigia CD TT HIC ROM
"Jazz"
OFA GS40272G24F-T
12/14/92 - 4/22/04
(Ch Windwalker's Jolly Roger ROM v Windwalker Apfelsine Annie ROM)
A top 10 Futurity/Maturity Producing Dam for 1999 and 2000 and a top 10
Annual Training Acheivement Award Dam as well in 1999and 2000 , Jazz was quite happy
to be the 'queen of the kennel'. She enjoyed life, got along with everyone
and was a delight.



CH Tsali Jubilate Raisin' Kane at Falkrigia
aka Kane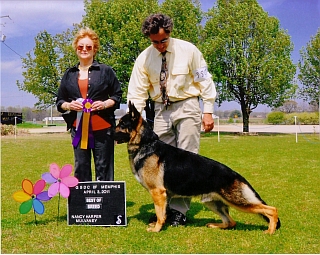 (BIS/BISS Ch Adelgard's Yancy D vom Marquin HT PT RE CD TC CGC BH x Falkrigia She's A Little 2 Hot 4 Me OFA )

Kane was that rare, special dog who can walk into any ring and command attention. We are so pleased to have co-bred him with Todd Cosper and Suzanne Kinman and to have had him in residence with us for most of his life. We were happy to announce that he is owned by Mr. Ed Farrell and was in residence with his exclusive handler Scott Yergin as he starts his specials career. He was still co-owned by Todd and us. We hoped that he would have the exciting career that Suzanne always dreamed of for him. We just wish she was still here to participate but I know she and Yancy will watch him proudly together.

Co-bred and co-owned with Suzanne Kinman and Todd Cosper.

Died unexpectedly Nov 12, 2011 and has gone to join Suzanne and Yancy.
Our heartfelt condolences to his owner Ed Ferrell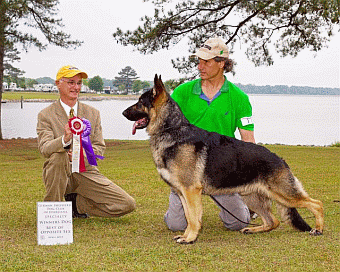 Photo of 4 Point Major
Click here for Pedigree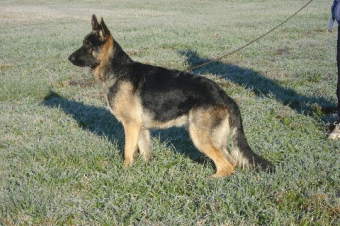 photo at 11 months

Falkrigia's Nevermore RN RA RE CDTC HIC OFA Excellent H & E
aka Nick
DOB 4/23/04
Died unexpectedly Nov 3, 2011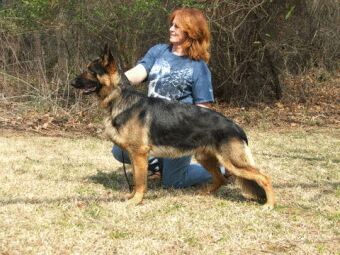 (Falkrigia's Quothe The Raven CD BH TC HIC CGC x Cinder vom Bar Berg SchHI BH OFA)
See Our pedigree
Nick is a littermate to Pepper and Scia, is total energy and perpetual motion. He's fun, totally sound and keeps everything in an uproar whenever possible. This litter is 3/4 german 1/4 american show lines and have excellent trainability, gorgeous coats and deep, dark pigment. Ears, eyes, bone and feet are excellent. Nick, or 'Little Nicky' as we sometimes call him, is already Rally titled, Temperament and Herding Instinct certified and is actively training in Schutzhund and obedience. Nick carries the black recessive and is OFA Excellent hips/Normal elbows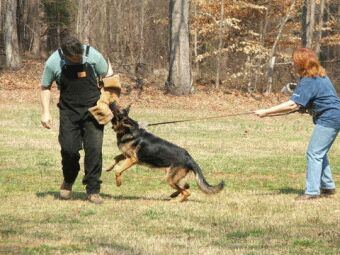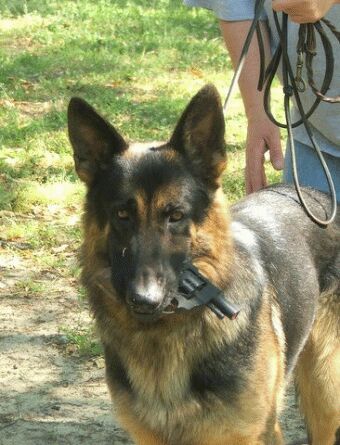 Falkrigia's Riverwind of Ropaja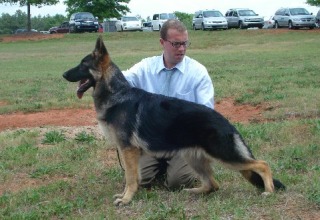 (Sel Ex Ch Karizma's Nicaragua OFA x BIS Ch Ropaja's Chateau Beaujolais HIC OFA )

DOB 10/26/08 - Died 12/14/2011

Pictured at 7 Months

Click here for Pedigree

River was equally as spectacular in motion as his brother Gryffindor with a quieter, calmer personality and a classic structural beauty. He is confident and secure and moves easily with power and grace covering the maximum amount of ground with out-reaching close-to-the-ground steps.



Falkrigia's Zendik FireStryker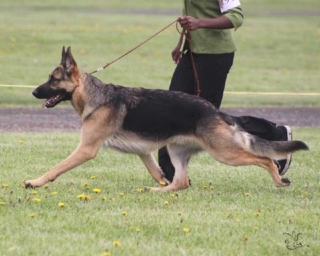 (Ch Falkrigia's Take No Prisoners CD TT HIC BH OFA x Falkrigia She's A Little 2 Hot 4 Me OFA)

Stryke rwas a littermate to Zen, Ziva and Zephyr and is co-owned and in residence with Debbie Britch in New York. Stryker had been getting his feet wet lightly in the puppy classes.

Stryker was tragically killed in a freak accident June 10, 2011. Our condolences to Debbie Britch and her family. A huge loss for all of us. This breeding produced absolutely gorgeous young dogs with structure, movement and character. The loss of Stryker has convinced us to repeat this breeding - a rare thing for us.

See our pedigree


Falkrigia's NightShade HIC
aka Scia - DOB - 4-23-04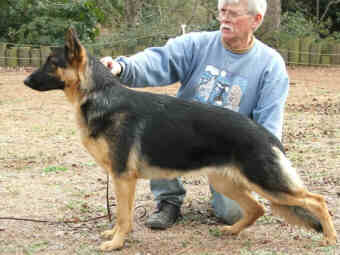 (Falkrigia's Quothe The Raven CD BH TC HIC CGC v Cinder vom Bar Berg BH OFA)

Scia was an intense, very dark young lady with a zesty, confident attitude about everything. She has excellent type, lovely bone, deep dark eyes and a strong but feminine head. She has recently started being shown and has an owner-handled 4 point major reserve.

She was sent across the Rainbow Bridge 12/21/2011



Falkrigia's Krieger v Kiokee RN BN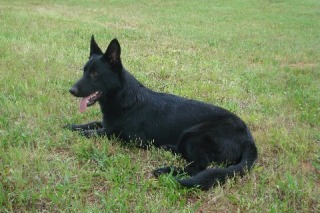 (Nomex vom Gebirgshaus BH CD CDX TD CGC RA RE RAE NA NAJ NAP NJP OA OAJ VCD1 VCD2 AX AXJ CERT. SAR OFA GS-74588F34M-PI OFA GS-EL18876M31-PI x Cinder vom Bar Berg BH SchH I HIC OFA GS-63554F24F-PI OFA GS-EL13560F24-PI )

DOB 8/18/08


Ch Falkrigia's Gryffindor of Ropaja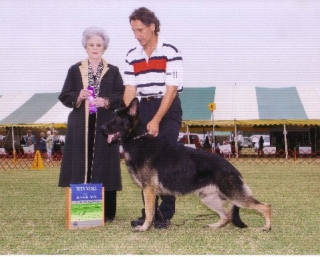 (Sel Ex Ch Karizma's Nicaragua OFA x BIS Ch Ropaja's Chateau Beaujolais HIC OFA )

DOB 10/26/08

Gryffindor was an incredible young man. Dark and handsome, he also moved beautifully and had tremendous bone, a lovely plush coat and masculine headpiece !!

Gryff finished with 4 majors in specialty and all-breed venues.

We are sad to state that Gryffindor passed away recently and will be greatly missed.

Gryff at 7 Months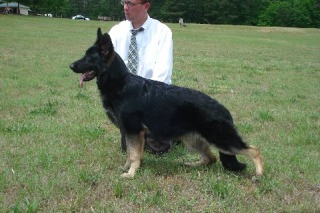 CH Falkrigia's Nightwind v Adorher aka Windy OFA HIC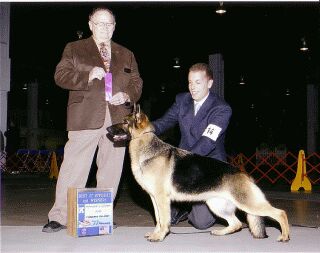 CH Falkrigia's Nightwind v Adorher aka Windy OFA HIC
(Ch Kaleef Man O War Falkrigia HIC x Adorher Midnight Lace)
A Ch Red daughter out of a Sel Ch Red October daughter, Windy was a delightful young dog who is easy to get along withand tried very hard to please. Ch Windy went to the Rainbow Bridge in April 2011. She is greatly missed.



Falkrigia's Night Heat RN HIC OFA Fair TC
aka Pepper DOB - 4/23/04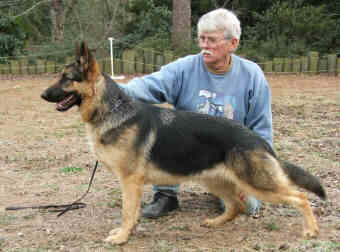 (Falkrigia's Quothe The Raven CD BH TC HIC CGC v Cinder vom Bar Berg BH OFA)

Pepper was fiery, fun and full of life. She had a gorgeous substance, head, bone and coat and beautiful type.






Cinder v Bar Berg SchHI BH HIC OFA GS-63554F24F-PI Hips
Elbows OFA GS-EL13560F24-PI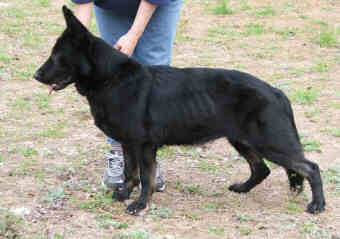 (V Laser vom Bar Berg KKL 1 SchH3 IP3 OFA GS-44921G24M-T x Inka von der Briken OFA GS-57059G30F-T)
See our pedigree
Cinder was the dam of our Raven litter which produced Nick, Scia, Pepper and Naya. She has very nice structure and a very
sound and agreeable disposition.
We are sad to announce that at 13 years of age, our european girl Cinder vom Bar Berg BH Sch H1 OFA haspassed away. Cinder was the dam of our Raven litter which produced Nick CD RN, RA, RE TC OFA Ex,
Pepper RN TC OFA and was also the dam of our Nomex litter producing Silvara UD, Krieger BN RN and Fizz BN OFA as well as having produced other titled performance offspring. She had very nice structure and a very sound and agreeable disposition. She lived with, and was owned by, Sherry McFarland and was co-owned by us at Falkrigia. We're delighted to have had Cinder as part of the future of Falkrigia Shepherds






Falkrigia Ziva's Too Hot To Handle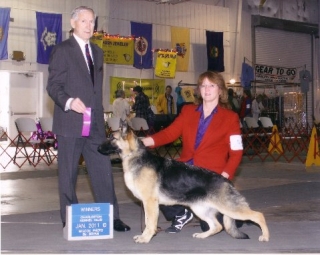 Pictured going WB at 7 months old
(Ch Falkrigia's Take No Prisoners CD TT BH HIC OFA x Falkrigia She's A Little 2 Hot 4 Me OFA)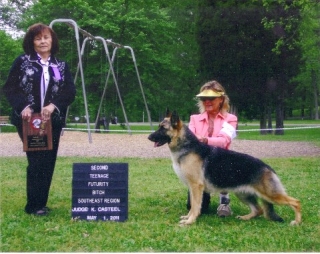 Litter sister to Zen, Ziva was multi-pointed from the puppy classes with a 2nd Futurity placement. She was, like her
namesake, tough but feminine and beautiful.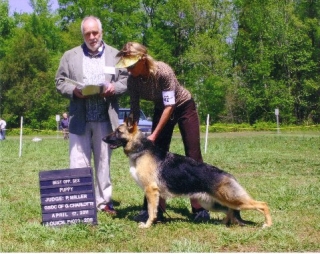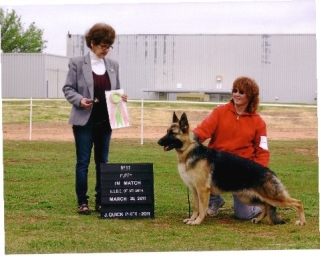 Falkrigia's Don't Tread On Me HIC RN OFA TC Good H & E
aka Cadence - DOB - 4-16- 04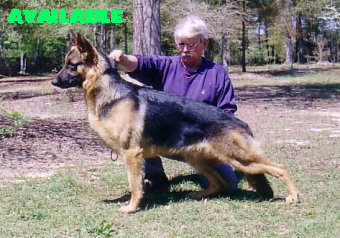 (Falkrigia's Quothe The Raven CD BH TC HIC CGC v Greenbriar Farms' Xtra Special)
See our pedigree
Cadence was a truly strong, sound, stand-up German Shepherd for his entire life. We are very sad at his passing recently over the Rainbow Bridge. Though never campaigned in the breed ring, he had many fine qualities both for conformation and performance and he was 2nd only to his half-brother Vachon as a protector of those he loved. We are thankful for the many wonderful years we had with him and when he was ready, we let him go. He had spondylosis which was kept in check for some time with laser treatments until he decided it was time. We are very thankful for the additional time they gave us with him.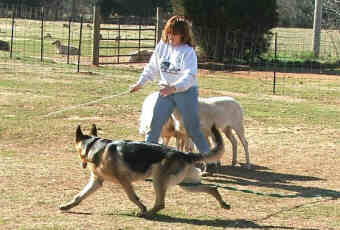 Falkrigia Ziva's Too Hot To Handle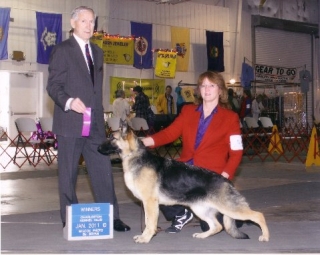 Pictured going WB at 7 months old
(Ch Falkrigia's Take No Prisoners CD TT BH HIC OFA x Falkrigia She's A Little 2 Hot 4 Me OFA)


Ch Falkrigia's Rastus B Dragonfire OFA HT RN
aka Rastus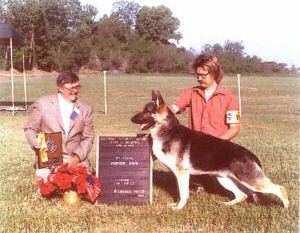 (Ch Falkrigia's Take No Prisoners CD BH TT HIC x Swarz D'wald's Zina v Leeray)
See Our Pedigree
DOB 7-31-01
Pictured above at 8 months of age, Ch Rastus is a confident, devoted, fun friend and companion who 'lives to please' and believes the world should revolve around him and his human partner. Very intelligent, he is quite the comic and has been a delight to train, work and show. Having had ACL surgery in January 2006 following an injury, he is now restricted to the less demanding performance venues but will continue working in every area that he can. He is a wonderful partner and protector, just as his sire is, and and his children and
grandchildren are making him proud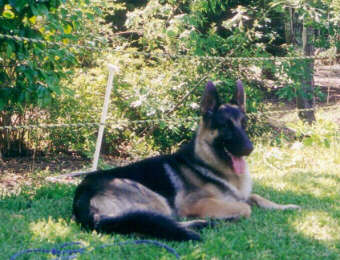 See Pix of his pups



Ch Falkrigia-Caphalo DragonQuest OFA Good CD RN
aka Questor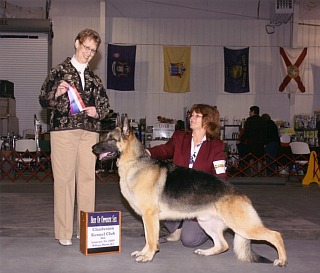 (Ch Falkrigia's Rastus B Dragonfire HT RN OFA x Caphalo's Jolene)
DOB : 7/26/06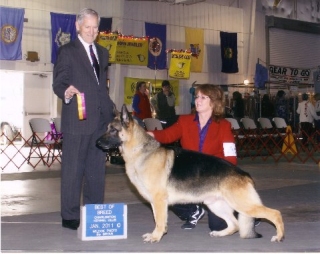 Questor, now our 20th Champion, was actually pointed both days his first weekend out at just 6 months of age. He, like his littermates, is happy, outgoing and full of the enjoyment of life. We are delighted with his quick finish as a mature male and are very happy to have these guys who go back to our earliest lines we had once thought to be lost. This breeding was also a 5-6 linebreeding on our Ch Ambush CD TC OFA Excellent from the 80s and Questor should produce very much like himself and his sire and grandsire Champions Rastus and Vachon - large, substantial, sound and beautiful.

See our pedigree

Questor was co-owned with Jon and Leslie Hutto. Leslie is a very talented canine sculptress who does many of the various breed
Questor rose to the occasion to become a Junior handling dog for 9 year old John Wilcher. He had been an amazing partner for young John - being soooo careful to go slowly and doing most all that was asked of him.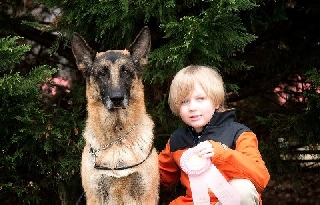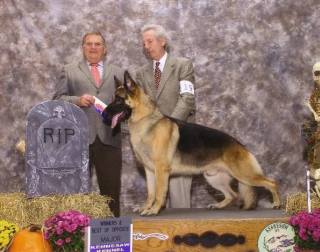 Falkrigia's Ruffled Feathers
aka Ruffy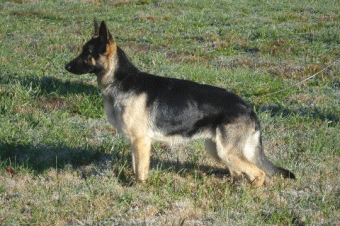 Photo at 12+ months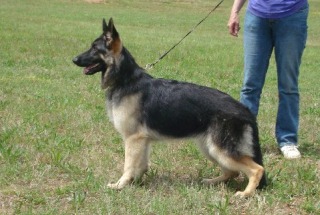 (Falkrigia's Twice Quothe The Raven x Falkrigia-Caphalo's DragonFeathers)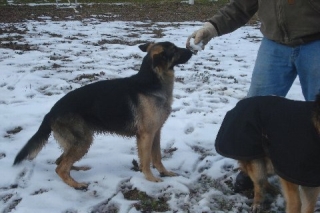 DOB 8/18/08

Pictured at 7 Months

This little girl was dynamite in a small package and did well in the show ring coming away with 10 points and several major reserves. She was fun and lovely in type, structure and movement.

Falkrigia-Kiokee Raven's Fire BN
Flash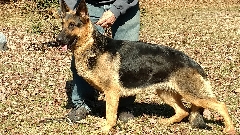 (Falkrigia's Flashpoint TC OFA x Kiokee-Falkrigia's Fizz CGC BN CD OFA)
DOB 5/30/14

See Our Pedigree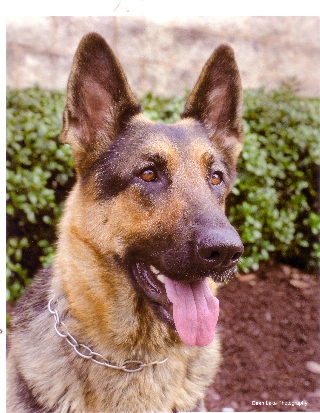 Co-owned with Co-breeder Sherry McFarland
Flash had found a great retirement home with experienced shepherd owner Jeanie Bounds