Welcome to Falkrigia Shepherds, the Crafty Woodchuck and Appaloosa Acres
BEAUTY OF MIND, BODY, AND SPIRIT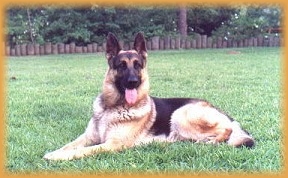 ABOUT US - OUR HISTORY
HISTORY
Falkrigia Shepherds started in 1983 with the breeding of Falkora's Irish Fable to Ch Van Cleve's Edge TC which produced our first maturity placer, pointed, major reserve winner Falkrigia's Cimmaron, his sister Falkrigia's Charisma CD TC OFA, who some of our dogs go back to today, and litterbrother Falkrigia's Chaos TC. Had we had more knowledge at the time, all three of these would probably have finished but instead they served as our introduction to the world of showing - a world we continue to thoroughly enjoy.

Our kennel name - Falkrigia - is a combination of the names of the three German Shepherd dogs I owned about the time I met Gene - Falkora's Irish Fable - a sable Noah granddaughter, Arras Krieger CD TC- a massive solid black male with impeccable character and Georgia - a German inport bitch I had done Schutzhund with in Germany.

Since the beginning, we have tried to breed with a total picture in mind - the 'ultimate package' of beauty, brains, movement and character and that is, and will be, our continued goal.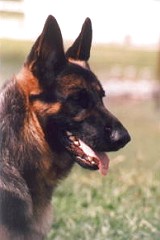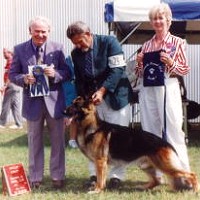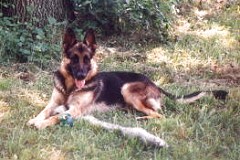 Ch Glenmar's Ambush of Falkrigia CD TC HIC CGC
OFA excellent
2x group winner, also a 13 club member
Ambush was an incredible dog to own and show. He did everything we ever asked of him and gave us more joy and devotion than we imagined possible. He has stamped his gorgeous head, bone, pigment, coat and character on many of his descendants especially his great-grandson Ch Falkrigia's take No Prisoners CD TC HIC who is almost a carbon copy of his wonderful ancestor. Ambush produced the High In Trial dog at the 1992 National - Falkrigia's Inciting A Riot UD and his sister Falkrigia's Caprice of Hazrich UD as well as many other obedience titled offspring. He also produced many futurity and maturity placers as well as conformation point winners including Ch Falkrigia's Kodi of Skautdog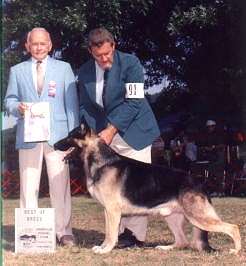 Ch Falkrigia's Vindicator TC aka 'Casey'
(Falkrigia's Equalizer x Van Cleve's Starsign)
One of our favorites, Ch Casey was lost to a virus in his prime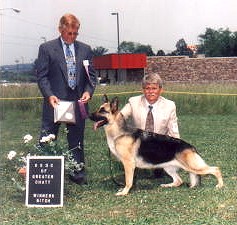 Ch Falkrigia's Wine and Roses aka Rosie
(Sel Ch Brentaryl's Gunner ROM x Van Cleve's Yardley Falkrigia CD ROM)
Shown winning her 1st major, owner-handled. Ch Rosie is now the much-loved housepet of Joe and Johnnie Scamihorn in Reno, Nevada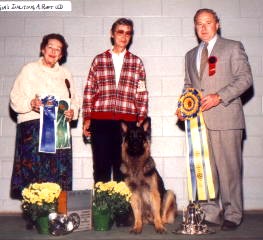 Falkrigia's Inciting A Riot UD aka Citer
(Ch Ambush CD x Van Cleve's Yardley Falkrigia CD ROM)
Shown with co-owner/trainer Hazel Moseley going High in Trial at the 1992 National from the Novice B class at his first trial.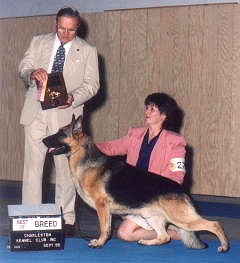 Ch Falkrigia's West Virginia aka Jesse
(Sel Ch Brentaryl's Gunner ROM x Van Cleve's Yardley Falkrigia ROM)
An owner-handled group winner, Ch Jesse had multiple BOBs and Group placements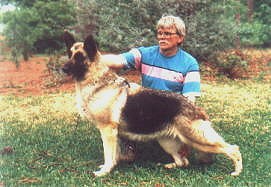 Van Cleve's Yardley Falkrigia CD ROM aka Gigi
(Sel Ch Cedar Creek Erin v Lee-Ray x Van Cleve's Starsign)
Gigi was born at Falkrigia out of a breeding done by Dr Carmen Battaglia. She was Ofa excellent and gave us many exciting winners from her 2 litters. She died just before her 12th birthday. She had a wonderful personality and was great to own and live with. Her dam was also the dam of our Ch Vindicator TC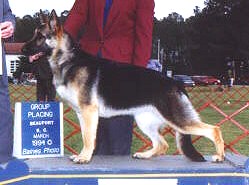 Ch Falkrigia's Sultry Ladyhawke
(Ch Falkrigia's Vindicator TC x Falkrigis'a Indigo Lace)
Shown winning her first points, Best of Breed and Group placement from the 9-12 puppy class under judge Carmen Battaglia, Hawk was one of those exceptional movers that could adjust to whatever size or surface the ring presented and still exhibit ground-covering, full extension at both ends.
Hawk passed away at 12 years of age shortly before her brother Falkrigia's DragonMaster at 12 and 1/2.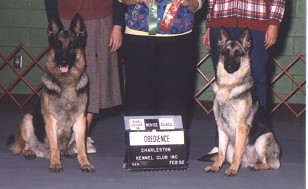 Ch Ambush CD and his daughter
Falkrigia Caprice of Hazrich.UD aka Frostee
(Ch Ambush CD x Van Cleve's Yardley Falkrigia CD ROM)
Shown qualifying together in Novice B
'Frostee was owned by Hazel Moseley'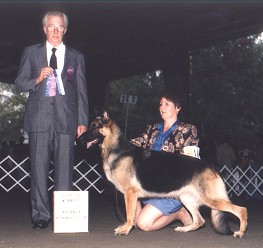 Ch Falkrigia's Kodi of Skautdog
(Ch Ambush CD x Falkrigia's What A Wicked Game)
Co-owned with Ken and Liz Besecker, Kodi finished very quickly and is their much-loved friend and companion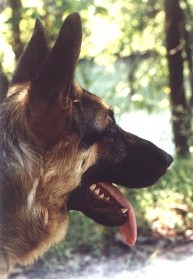 Falkrigia's Romancin' The Wind HIC aka Bat
A top ten Annual Training Achievement Award Sire for 1999, Bat now lives happily with his new owner in North Carolina.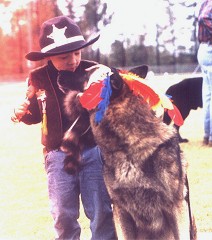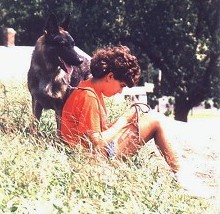 Falkrigia's Greystone CD aka Stoney
Left - With his buddy (our nephew) Kevin Bragg
in the 'costume class' at our local show one long ago Halloween
Right - relaxing with young Dawn Workman
while away on a dog show weekend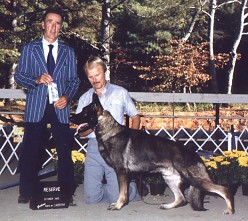 Falkrigia's Cimmaron
Our 'first' show dog, Cimmaron was a black or 'charcoal' sable who did a great job of starting us out and teaching us the ropes.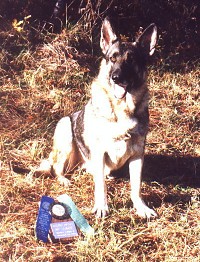 Falkrigia's Charisma CD TC
Chrissy was a fun dog who produced very well for us with several of our Champions being her grand-progeny and great-grand-progeny.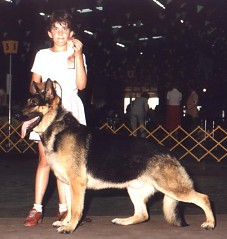 Falkrigia's Chaos TC
Shown with his junior-handling buddy Dawn Workman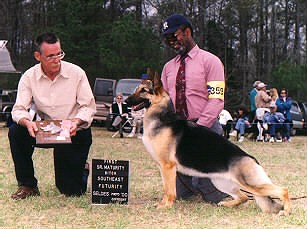 Adorher Belladonna Falkrigia

(Sel CH Breauhausen's Red October v Ch Windwalker's Utah v Falkrigia CD TT HIC ROM)

Bella was a beautifully suspended, petite little girl needing only a major to finish. She was the 4th bred-by bitch at the 2001 National Specialty. As she did not OFA, Bella was placed in an excellent home where she was much loved. She died at the vets in March 2002 from spay surgery complications.
See her 2001 National Win photos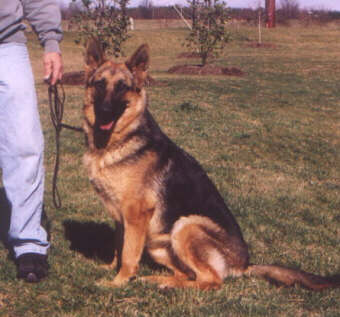 Falkrigia's Firestorm v Kiokee CD HIC aka Singe
(Ch Falkrigia's Take No Prisoners CD TT HIC OFA good v Kiokee's Bree OFA excellent )
A Ch Vachon daughter out of a full german dam Kiokee's Bree OFA excellent, Singe unexpectedly and too young lost, she was a trainer's dream and an absolute and total delight in every way. She will be greatly missed forever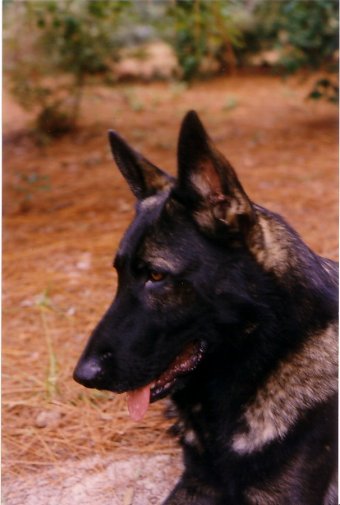 Falkrigia-Triad's Trial By Fire CD CGC DJ was the ultimate PR man and Goodwill Ambassador for the
GSD and for us at Falkrigia. DJ never met a child or adult he didn't like and invite to play with him. He was always accepting and friendly one-on-one or in a large crowd. He was totally sound and loved his toys, taking great care of each for years and years. His sire was Triad's Traveler aka Gator, long-term top working canine with the Columbia Police Department and career partner of Sgt Randy Blackwell. His dam was our Fire 'N Brimstone bitch aka Rustie. He lived to a wonderful old age, died peacefully in his sleep and is greatly missed.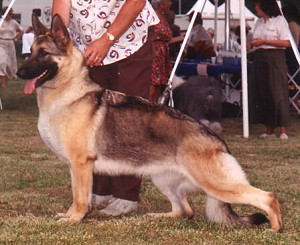 Ch Windwalker's Utah v Falkrigia CD TT HIC ROM
"Jazz"
OFA GS40272G24F-T
12/14/92 - 4/22/04
(Ch Windwalker's Jolly Roger ROM v Windwalker Apfelsine Annie ROM)
A top 10 Futurity/Maturity Producing Dam for 1999 and 2000 and a top 10
Annual Training Acheivement Award Dam as well in 1999 and 2000 , Jazz was quite happy
to be the 'queen of the kennel'. She enjoyed life, got along with everyone
and was a delight.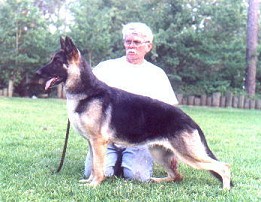 Schwarzwald's Zina v Lee-Ray OFA excellent

(GV Ch Campaigner's Gatewood Uzi ROM OFA x Ch Three-D Campaigner's Zima OFA)

Zina, dam of Ch Rastus HT and Maggie HT passed away in summer of 2005. She was a much-loved member of our family and gave us wonderful offspring to carry on her lines. Zina came to us as a 4 year old and though she was never titled, she was sound, intelligent and affectionate.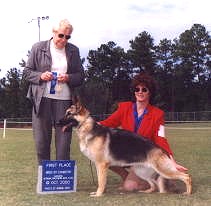 Falkrigia's Brina of Cedar Run OFA
(Sel CH Breauhausen's Red October v Ch Windwalker's Utah v Falkrigia CD TT HIC ROM)

Owned by Jerry and Renee Franks, Brina had 12 points, one major.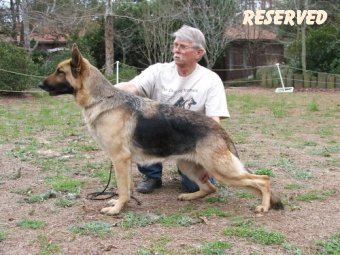 TR-Kenlyn's Vixen v Falkrigia RN OFA Good HIC
(Sel Ch Jag of Fran-Jo ROM OFA x TR's Pandora v Kenlyn ROM OFA excellent)

Vixen was an extremely sound, energetic and intelligent member of our
group. She had a strong character but is sweet, loving and cooperative.

2nd Junior Bitch at the 2002 SW Futurity

Died January 19, 2008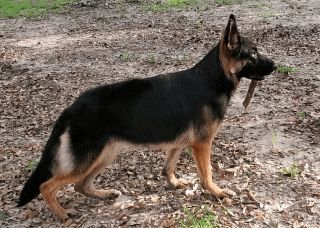 Ch Falkrigia's Bit Mischievous HIC OFA
(Sel CH Breauhausen's Red October v Ch Windwalker's Utah v Falkrigia CD TT HIC ROM)
A hard-driving, extremely animated and 'showy' bitch, Misty is the dam of Falkrigia's Summer Wine.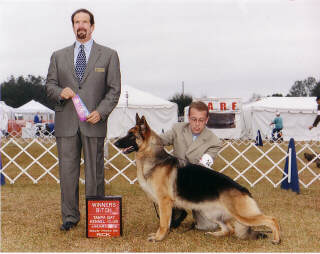 Falkrigia's Summer Wine OFA H & E
(Ch Kaleef's Man O War Falkrigia HIC OFA x Ch Falkrigia's Bit Mischievous HIC OFA)

DOB 5-10-02 - July 2009

Summer was a gorgeous mover with elegant lines, rich pigment, great coat and was very expressively feminine. Summer was lost to surgical complications in July 2009.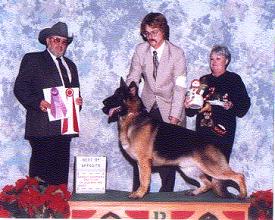 CH Kaleef ManO'War Falkrigia HIC,CD, ROM
"Red"
OFA GS-63749G27M-PI
GS - EL13658M27-PI

(Ch Kismet's Sight For Sore Eyes TC v Kaleef's Valle)
See Our Pedigree

Shown winning his first major at 12 months of age, Red was truly 'the ultimate package', with a very strong head, black and red pigment, substance, large bone, incredible ground-covering movement and true Shepherd character. Red had a pedigree of outstanding producing potential and he proved it in his first litter which produced Champion Jolie and Champion Beau - both bred by Pauline Moon. His younger offspring are beginning to do well in their own right and he was bred to two extremely nice bitches shortly before his untimely death whose offspring will hopefully continue Red's legacy of gorgeous young dogs and bitches.

His brother BoldRuler aka Trapper, producing well in his own right, is still standing at stud at Falkrigia.

See pix of his litters.

Man O War completed his ROM with 6 Champions and 4
major-winning qualifiers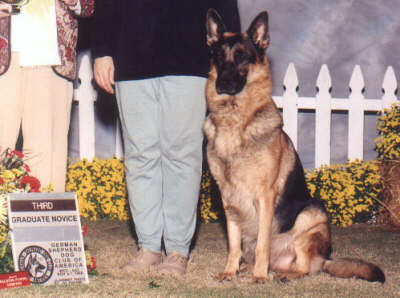 Falkrigia's Quothe The Raven CD BH TC HIC
(Rusty v Estahaus x Falkrigia's Indigo Lace OFA good)
See Our Pedigree
Shown going 3rd in grad novice at the 98 national, he is the sire of Ch Vachon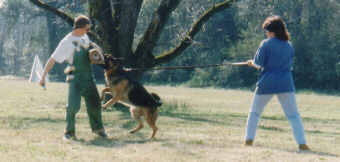 Raven was a german/american cross who produces beautiful pups who are free of many of the problems seen so often today. He improved pigment, bone, trainability, earsets, secondary sex characteristics and eye color consistently.
With the german combination of Sel Ch V Dingo Sch 3 and Ch Ondra v Sendborn and his old, solid American show lines, he is an important part of Falkrigia German Shepherds
Raven passed away December 27th 2007 at 12 and 1/2 years of age but his
solid genetic influence will hopefully live on through future generations
of Falkrigia shepherds

See pix of his litters.