Welcome to Falkrigia Shepherds, the Crafty Woodchuck and Appaloosa Acres
BEAUTY OF MIND, BODY, AND SPIRIT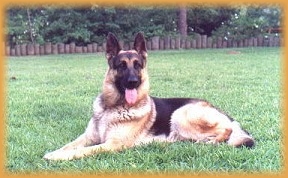 OUR BEAUTIFUL BITCHES

Dominant Female Producers of Current Quality Falkrigia Competitors

Falkrigia She's A Little 2 Hot 4 Me OFA Good, ROM
aka Fire - DOB 4-14-04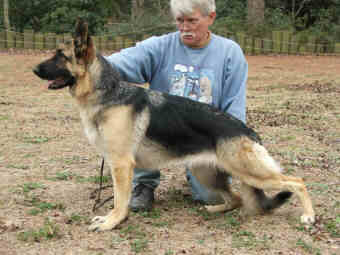 (Ch Kaleef's Bold Ruler of Falkrigia CD RN HIC OFA x TR-Kenlyn's Vixen v Falkrigia RN HIC OFA)

Fire was beautifully put together and had a super, sweet, affectionate attitude. She had a strong head, gorgeous eyes, an excellent front reach and easy ground-covering movement. She was extreme in angle but very clean. Never shown herself due to time conflicts, she was a wonderful producer and easily attained her ROM with her offspring now producing well themselves..
# 19 German Shepherd Dog Club of America Top 20 Annual Training Achievement Award Sires and Dams for 2016





GCh Ropaja's C'est Caché CD BN RN TC ROM OFA H/E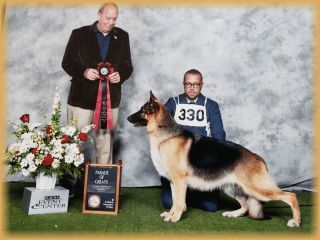 (GrCh Kaleef-Jaepaul SanJuan Diego Falkrigia OFA x BIS CH Ropaja's Chateau Beaujolais OFA ROM)

A strong, confident, gorgeous girl, Caché has made her mark in the breed ring, the whelping box and has achieved titles in the performance arena while often 'socializing' with ringside as she did. After her initial shock at being expected to actually 'work' , she took well to training and performance venues and should continue to advance in them. She is challenging and fun to live with, train and show and her offspring should follow in her footsteps.
Caché has already secured her ROM with her first litter by Sel Ch Travis ROM and has a gorgeous, young, Ch Vachon ROM litter on the ground now as well, that is showing tremendous promise with one Champion completed and 2 more qualifiers with several more just starting.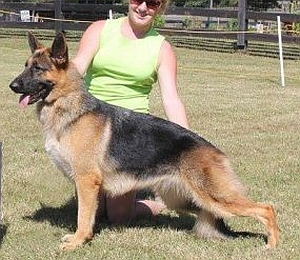 Caché is bred and owned by Pauline Moon and co-owned with us at Falkrigia. After 'working' and attaining her required performance titles, she is happily living the life of a Queen at Ropaja again


Kiokee-Falkrigia's Fizz CGC BN CD OFA TC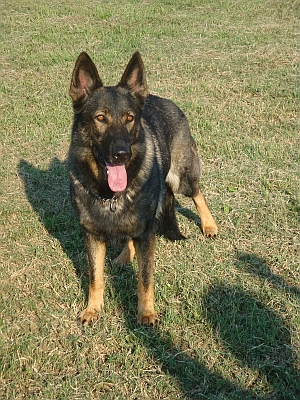 (Nomex vom Gebirgshaus BH CD CDX TD CGC RA RE RAE NA NAJ NAP NJP OA OAJ VCD1 VCD2 AX AXJ CERT.
SAR OFA GS-74588F34M-PI OFA GS-EL18876M31-PI x Cinder vom Bar BergBH SchH I HICOFA GS-63554F24F-PI OFA GS-EL13560F24-PI)

Fizz, an all-european combination of Czech, East German and West German working lines, is a litter sister to Krieger RN BN and Silvara RA UDX. She is in residence with owner Sherry McFarland and is the dam of the three beautiful youngsters by Champion Falkrigia's Flashpoint TC RA OFA..... Edgar, Flash and litter sister Roxie who is the constant companion of her owner Mr. Dub Larimore. Bred and co-owned by Lynda and Sherry, we are very pleased with her litter with american show lines as Edgar is multi-titled in a variety of venues already and works in obedience, rally, barnhunt and schutzhund and expects to start herding shortly. Flash has recently begun her performance titling and will soon start conformation competition as well. I love it when a plan comes together./p>
# 16 German Shepherd Dog Club of America Top 20 Annual Training Achievement Award Sires and Dams for 2016


Current Competitors in Conformation and Perfomance

GrCh Divna's All Things Considered of Falkrigia RATN TC OFA Hips and Elbows
aka Palin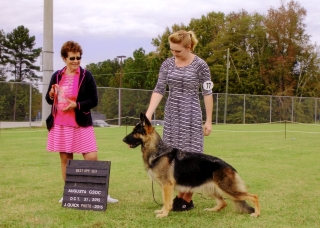 (GrCh Kaleef-Jaepaul SanJuan Diego Falkrigia OFA x Divna's Moonlight Sonata OFA (GV Aregon dtr)
DOB - 11/22/2012
Ch Palin finished her Championship as a very young girl and spent time maturing at home before starting her Grand Championship campaign.
Shown only very sparingly the last couple of months of 2015 she quickly amassed 11 Grand Championship points with 3 majors under 3 judgesand then finished her Grand Championship in great style :-) She won in specialty and all-breed venues and always had a great time :-). This is a very special Diego daughter with what we hope is an excellent future in show, performance and eventually the whelping box. She is currently enjoying barn hunts with her buddies Edgar and Aiden.

Palin shown going Best Puppy (both days) at the Augusta German Shepherd Dog Club shows in September 2013 under judges Kathy Potter and Dick Jones.
Palin is a littermate to Marco who was pointed from the 6-9 class.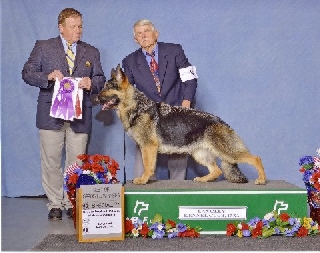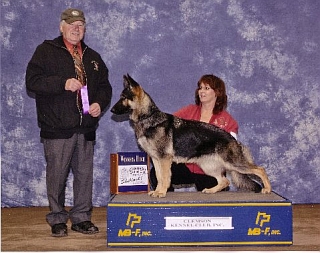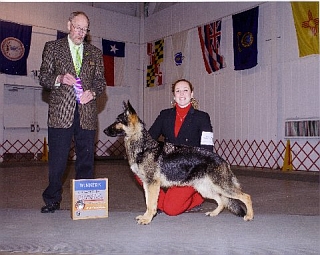 CH Falkrigia-Ropaja's Passion for Glory OFA Hips and Elbows
Ziva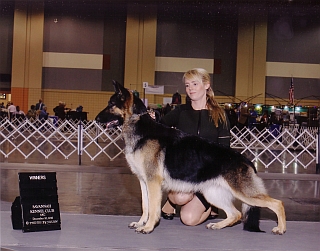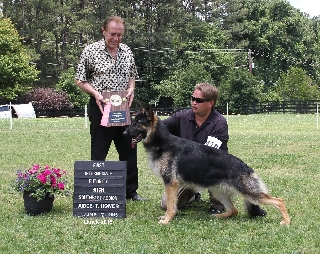 (Ch Campaigner'sLindel Time Traveler TC RN OFA x GrCh Ropaja's C'est Cache' ROM CD BN RN TC ROM OFA H/E)
DOB 2/19/14
Ziva ia another member of the Travis/Cache' litter making their sire and dam proud. Ziva is a lovely, spirited, dark bitch with great temperament and trainability. She is already being prepared for a performance career in Herding once her Grand Championship is completed and she is currently available for lease to an approved breeder looking to do a quality breeding
See Our Pedigree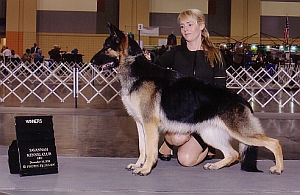 Ziva with Ashleigh Oldfield going WB in Savannah GA 2017

Ropaja'-Falkrigia Voila Maleficent OFA H/E DM Clear
aka Maleficent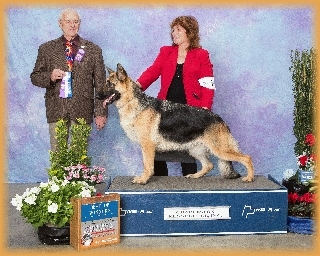 (CH Falkrigia's Take No Prisoners CD TT BH HIC CGC OFA ROM X GCH CH Ropaja's C'Est Cache' CD BN RN TC OFA ROM)
DOB:7/1/2016
Littermate to Ch D'Artagnon, Maleficent is now ready to pursue her own titles with other littermates awaiting their turn in the spotlight. She has a super personality and should do well in multiple venues of performance as she completes her conformation career
BOW under judge Robert Shreve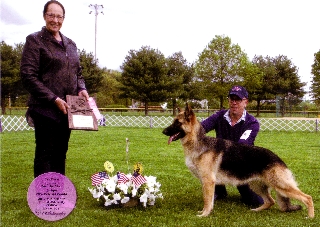 Going 1st Junior Mid-Atlantic Futurity bitch 2017
Co-owned with Cobreeder Paula Moon

Falkrigia's Wicked Hot This Way Comes
aka Scorch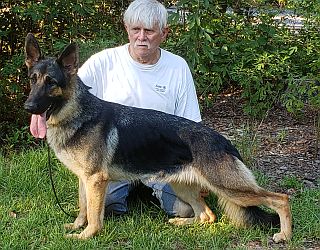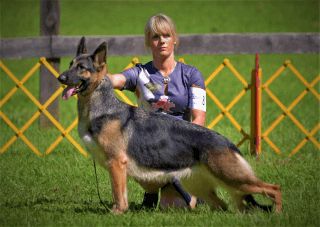 (GCh Falkrigia's Zen Trial By Fire CD BN RE HT RATN CGC TC OFA H/E x GCh Divna's All Things Considered of Falkrigia RATN TC OFA H/E)
DOB: 1/10/18
Known as Scorch, this little girl is her mother, Palin, made over......dynamite temperament, great personality, lovely structure and a driving mover.
She is just starting to be shown but we are expecting great things from her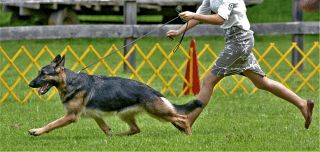 Anakonda van Contra Haus TC 'a' stamp DM Clear
aka Ana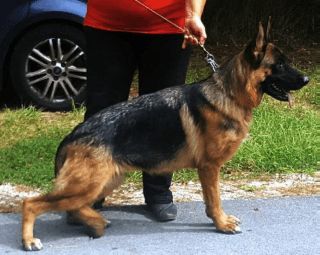 (Hotatio V Haus Milesevac IPO 1 x Woga Ujsor-Vegi)
DOB: 12/4/15
Anakonda is our newest addition at Falkrigia. She was imported into the states from Bulgaria in whelp to a european Schutzhund 3 male and we purchased her from her owner at that time after the litter was whelped and sold and the owner was wiling to sell her. Leslie Hutto and I bred her to Ch Elfin which produced 3 extremely nice pups which are showing excellent potential for performance and potentially conformation as well. Ana is structurally very nice with excellent movement developing as she becomes conditioned.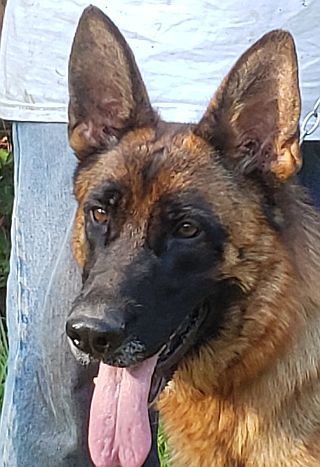 AidenQuest-Falkrigia's Cosmic Mayhem v Fame RN CGC RATN
aka Gemma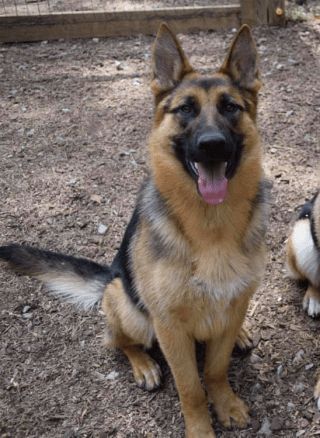 (Ch Falkrigia's Yuletide DragonFire RN OFA X Anakonda Van Contra Haus TC 'a')
DOB: 6/13/18
Gemma is a fiery, happy and exuberant combination of American and European bloodlines. She is super smart, quick to learn and willing to try anything
She is lovely in rich, dark pigment, healthy coat, strong headpiece and substantial bone and body.
We are looking forward to great things from her in multiple venues including conformation.
Breeders - Lynda Bragg-Workman and Leslie Hutto. Owners are Breeders and Sherry McFarland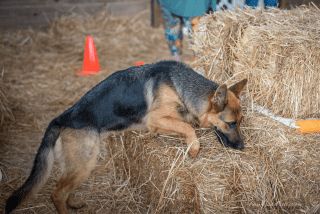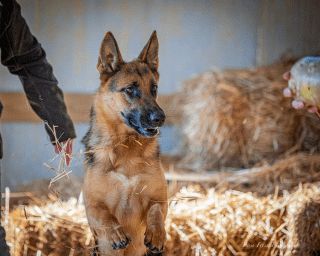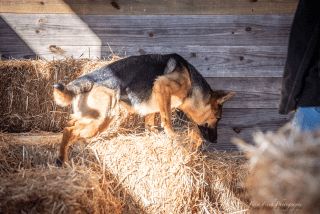 Falkrigia-Bred or Owned Current Competitors in Residence with Others

Falkrigia's Silvara v Kiokee, CGC RN RA HIT CD CDX UD UDX
2010,2012 and 2013 Greater Columbia Obedience Club's Obedience Dog of the Year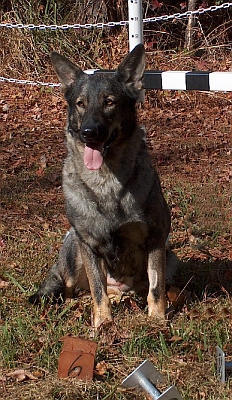 (Nomex vom Gebirgshaus BH CD CDX TD CGC RA RE RAE NA NAJ NAP NJP OA OAJ VCD1 VCD2 AX AXJ CERT. SAR
OFA GS-74588F34M-PI OFA GS-EL18876M31-PI x Cinder vom Bar Berg BH SchH I HIC OFA GS-63554F24F-PI OFA GS-EL13560F24-PI )

DOB 8/18/08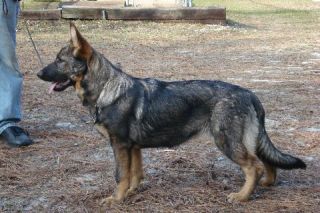 Pictured at 5 Months

Click here for Pedigree

One of our finest performance dogs, Silvara was owned, trained and exhibited by Tony Cherubini. Silvara loved life, performance venues, people in general and Tony and Sharon without question.

She lived a long, happy life and will be greatly missed by all who knew her.

This little sable all-german pup was a ball of energy with a super personality and excelled in working venues.
Vara was a combination of East German, Chechoslovakian and West German working lines. Vara was owned and in residence with long-time GSD
fancier and Obedience judge Tony Cherubini. We were delighted to have her with Tony and his equally active
obedience judge wife Sharon Crossman.

Huge congratulations to Tony Cherubini and Silvara on finishing her Utility title in great style. In 5 trials Vara became Falkrigia's Silvara v Kiokee CGC RN RA HIT CD CDX UD earning 2 Class First placements and one Second.Way to go Tony and Vara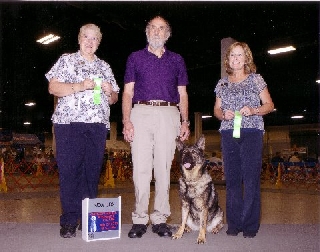 2013 National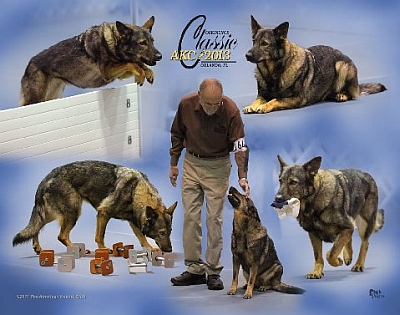 Tony Cherubini and Silvara at the AKC Invitational Obedience Classic 2013

Falkrigia Zephyr's Firefly PT
aka Gilly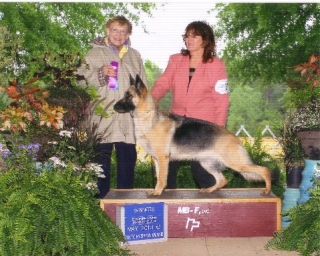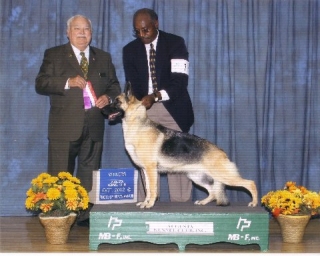 Handled by Richard Weaver

(Ch Falkrigia's Take No Prisoners CD TT BH HIC OFA x Falkrigia She's A Little 2 Hot 4 Me OFA)
DOB 6/3/10
Photo at 2 years of age

Gilly is owned with long-time Falkrigia friend and assistant Angie Hubbard. She is very feminine, totally sound and social and beautifully 'put together'. Gilly now has 9 points with one Major in very limited showing and is actively working in Herding with Angie. She is a delightful dog in every respect. We are very proud of Gilly and owner Angie Hubbard. Gilly is very proficient in the herding arena and we look forward to her future Herding Titles.

In Residence with Angie Hubbard.

Ch Falkrigia-Ropaja There's No Surrender,OFA hips and elbows, RATI
Haley
DOB 2/19/14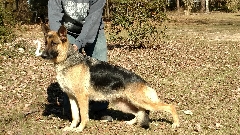 (Ch Campaigner'sLindel Time Traveler TC RN OFA x GrCh Ropaja's C'est Cache' ROM CD BN RN TC ROM OFA H/E)
DOB 2/19/14
See Our Pedigree
She is co-owned and in residence with Leslie Hutto




Falkrigia's Alexis
Lexi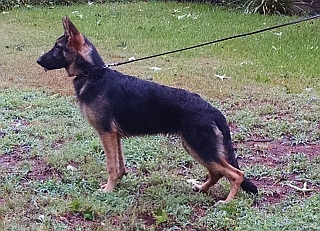 (Rex von Abedeljalil x Diva XXVII (European))
Alexis is co-owned with Angie Hubbard





Falkrigia's Private Eye CD BN RN
Jenny Swift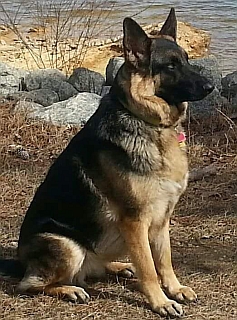 (Ch Falkrigia's Rastus B DragonFire RN HT OFA x Kaleef's Renee of Falkrigia OFA)
DOB 12-18-2012
Swift is a beautiful, social and devoted family member...guarding the grandbaby and loving her owners Jeff and Candy Padgett. Candy and Swift are enjoying performance events and doing VERY well in each new adventure they take on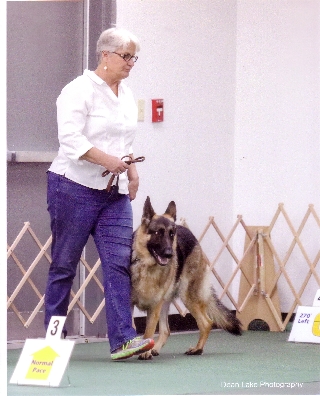 Swift and Candy completing their Rally Novice title with flair



CLICK HERE TO COMPLETE OUR POTENTIAL PUPPY BUYERS FORM
CLICK HERE TO SEE BITCHES THAT HAVE CROSSED THE RAINBOW BRIDGE
RESCUE AND FOSTER
Rescue at Falkrigia and Appaloosa Acres is a very important aspect of our involvement with animals