Welcome to Falkrigia Shepherds, the Crafty Woodchuck and Appaloosa Acres
BEAUTY OF MIND, BODY, AND SPIRIT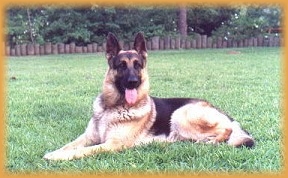 THE HOTEST NEWS FROM FALKRIGIA
DOGS:
1. 2016 German Shepherd Dog Club of America Top 20 Annual Training Achievement Award Sires and Dams for 2016 We are proud to have, in this prestigious performance ranking
Sires
#10 DAE Ch Falkrigia's Flashpoint RN RA TC OFA
#18 Ch Falkrigia's Take No Prisoners CD BH TC HIC OFA #20 Ch Kaleef;s Bold Ruler of Falkrigia CD RN OFA
Dams
#16 Kiokee's-Falkrigia's Fizz CD BN OFA
#19 Falkrigia She's A Little 2 Hot 4 Me ROM
All of these dogs were also in the top 50 of cumulative rankings for multiple years
2. Haley - Falkrigia-Ropaja's There's No Surrender OFA takes 5 points including one major in West Virginia under judges Robert Vandiver and Barbara Alderman.
3. Ropaja-Falkrigia's Voila' Chopin took a 4 point major reserve in West Virginia under judge Alderman..

Please Foster ..... Sometimes you are truly 'entertaining angels'.

HORSES:

We have a new resident now at the farm - The Wellington Cowboy - a classy name bestowed by Brooke (daughter of Angie Gates) on our sweet, friendly, fun and entertaining new companion - a 2 year old Jersey X steer who answers to the name Cowboy, plays with the horses, loves treats and having his horns and back of his ears rubbed and being brushed. Bottle-raised by Angie Hubbard, he is certain he is a pony
CLICK HERETO SEE SOME GREAT DOGS THAT HAVE GONE TO NEW HOMES